Information for Visiting Turners
Our club rooms are at Hemlington Recreation Centre, see below.
We meet every Wednesday, from 6.00 p.m. until 9.00 p.m.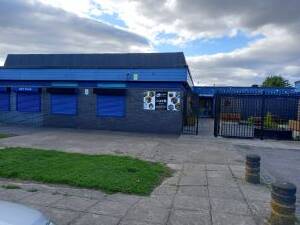 The postal address is:-
Hemlington Recreation Centre,
Cass House Road
Hemlington,
Middlesbrough
TS8 9QW.
DIRECTIONS.
See webpage entitled "Where to find us"

PLEASE NOTE: THE MAIN ENTRANCE DOOR AND POSSIBLY THE FORECOURT GATES WILL BE LOCKED.

FROM THE CAR PARK WALK ROUND THE EXTREME LEFT CORNER OF THE BUILDING (PAST THE CAFE) AND THE BLUE DOOR JUST ROUND THE CORNER WILL GIVE YOU ACCESS DIRECTLY TO THE HALL AND OUR ACTIVITIES.
If you get lost or need to make contact en route please ring Brian on 07899 043535.
Someone will be there by about 5.40pm to open up.
LATHE DETAILS.
Our best club lathe is Axminster Trade Series AT1416VS midi size, variable speed.
Spindle thread M33 3.5. Morse Taper 2. Swing 14". 16" between centres.


Click on "Diary" for details of specific events.


Create Your Own Website With Webador